ICOMOS is a non-governmental international organisation dedicated to the conservation of the world's monuments and sites.
Paris, 23 April 2015
In the face of the escalating armed conflict and military intervention in Yemen and the ensuing growing humanitarian emergency, ICOMOS expresses its continuing deep concern for the protection of cultural property in Yemen at risk from the hostilities.
Students and Young Professionals are invited to apply by 1 June 2015
The Raymond Lemaire Fund aims to encourage young heritage professionals to develop their skills through training and to welcome them within ICOMOS. In 2015, the Fund will award its first scholarships to young professionals or students (aged 21-30 in year of application) exercising their activities or studies within ICOMOS' area of expertise.
For more information on how to apply and donate
Download the full call for candidatures in English - French - Spanish
18 April 2015: ICOMOS is 50
The Second Congress of Architects and Specialists of Historic Buildings, held in Venice in 1964, adopted 13 resolutions, the first being the International Charter for the Conservation and Restoration of Monuments and Sites, better known as the Venice Charter, and the second, put forward by UNESCO, provided for the creation of ICOMOS.
Through US ICOMOS, ICOMOS has been actively involved in the consultation launched by the World Bank to re-write its policies regarding environmental and social development and assess the role of cultural heritage in managing these issues.
Deadline extended to 30 April
On the occasion of the 2015 annual General Assembly and Advisory Committee taking place in Fukuoka (Japan), the Advisory Committee is organizing a Scientific Symposium on 29 October 2015. Part 3 of the Symposium cycle "Tangible Risks, Intangible Opportunities: Long-Term Risk Preparedness and Responses for Threats to Cultural Heritage" the theme is "Risks to Identity: Loss of Traditions and Collective Memory".

Download the call for papers in English and French

Proposed abstracts should be sent to admin[at]ahms.com.au by 30 April 2015.
Water & Heritage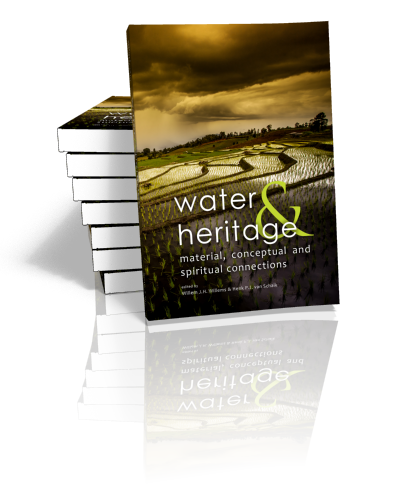 Material, conceptual and spiritual connections
Edited by Willem J.H. Willems (✝) & Henk P.J. van Schaik | 2015